Allison Coelho Picone is an artist and designer specializing in fine art and surface pattern design. Allison is currently interpreting her fine art into patterns and designs for apparel, domestics, fabric and other products. These products will in turn be marketed to women ages 17+ and their families who shop for peaceful, relaxing and restorative products. Her customers are interested in aesthetics, generating peace and accessorizing with color in their lives. They value quality and they research the products they buy. 

Allison's fine art is in many collections and has been shown in numerous exhibitions including a six-month solo show, "The Pace of Nature", at Arts Worcester's Hadley Gallery in Worcester, MA from July 30, 2016 through January 25, 2017. She has participated in numerous juried art exhibitions. Her art was also selected for "HERStory 2016" and "The Healing Power of Art 2016" at Manhattan Arts International and she won an Award of Excellence in both shows. Her work is represented by L'Attitude Gallery in Boston, MA and by Sbrogna's Artistic Promotions. 
February 19, 2019
The Thought-Provokers: Celebrating Artists & Creatives:
Art & Life with Allison Coelho Picone
Boston Voyager Magazine
November 9-11, Friday - Sunday
Small Stones Festival of the Arts, Great Hall at Apple Tree Arts
One Grafton Common, Grafton, MA
March 26, 2018

Artist Spotlight:  Allison Coelho Picone
written by Mark Wingerter
Roominate, A pictureframes.com Blog Graphic Dimensions, Picture Frames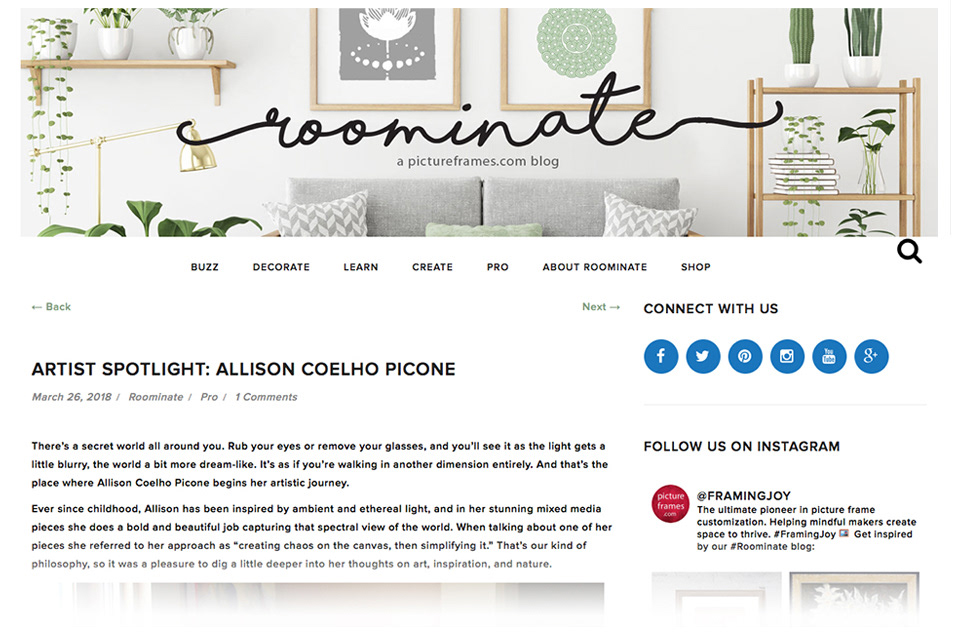 Freedom of the Seasons - The Pace of Nature
series
Recreating Your Favorite Memories in Paint™
commissioned paintings, 
series, and more original acrylic and mixed media paintings 

Licensing for fine art and pattern collections

All works © 2018 ALLISON COELHO PICONE.  Reproduction, copying or storing images or material in any form is strictly prohibited without prior written permission from Allison Coelho Picone. By browsing this website you are agreeing with the copyright terms above.